Everyone deals with stress. Its harsh distractions can make it difficult to concentrate on the positive moments as well as the important ones. However, studies have found that engaging in creative activities can help! For those of us who may not feel like artists, there is a simple solution that will encourage creativity and self-expression as a way to work through and reduce stress. Stenciling is both simple, fun, and its required level of focus will help counter anxiety – a great place to start!
Mindfulness is the process of bringing all your attention to the internal and external experiences happening in the present moment. Learning to clear your mind and focus all your thoughts on the creative project at hand will keep you from fixating on your stress. Although stress may be a normal part of living, too much can be harmful and it's good to give your brain a rest.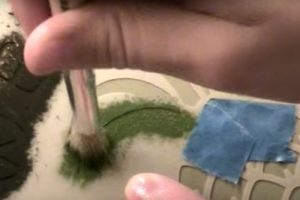 At times, it's easy to feel insecure especially when faced with daunting challenges. To overcome the discouragement these feelings provoke, set yourself a small goal to achieve.
It's good to pick an easy project to begin with like a pillowcase or vase. Completing a craft project, however small, will bring you immense satisfaction and confidence in your creative abilities. Not to mention brightening up your home with your own artwork is a constant reminder to yourself that your goals are within reach and accomplishable.
We all know life is full of unknowns, which can lead to stress and feelings of helplessness. Giving yourself a project that you have mastery over will make you feel more in control and help combat those negative feelings of powerlessness. Using a stencil will remove any pressure to come up with a craft concept from scratch. All you have to worry about are the colors to use! There is a stencil design for everything imaginable so you'll never have to worry about running out of ideas.
Creativity is all about self expression and understanding your perspective – the lens through which you view the world. Focusing on your work in that creative mindset disrupts mental patterns of stress. Some call it art therapy, meditation, or mindfulness, but in the end each requires you to be patient with yourself while you access your creative self. Take that plunge with a stencil. Not only will it bring you relief from anxiety, it will also leave you with a sense of accomplishment and satisfaction.