t can be quite a challenge to find the perfect gift for Mom on Mother's Day. It's nice to buy a gift, but why not go the extra mile and give her something special! There is no better way to show Mom how much you care than with handmade gift.
Our rosebud heart wreath is fun, simple to make, and incredibly meaningful! Frame this lovely keepsake for an extra personal touch and the memory will be forever treasured.
A perfect accent for the guestroom or living room. Bring the warmth of a rosebud heart wreath into your home.
Acrylic paint works best for these projects – coordinated to match your decor.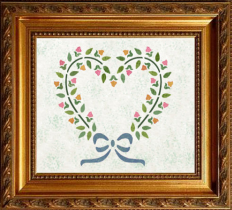 Rosebud Heart Wreath Instructions
Materials:
Watercolor paper
Acrylic pants – four greens, rose, light red, deep pink, white, light purple
If sponging your wreath, add a medium purple
Tools:
Blue painter's tape
Medium-size stencil brush
sea sponge (optional)
Paper towels
Small paint plate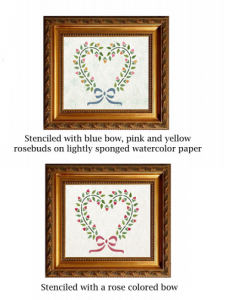 Additional Uses For Your Rosebud Heart Wreath Stencils
You don't have to wait for Mother's Day to enjoy these beautiful stencils – brighten your own home with framed rosebud heart wreaths! These framed gifts are good for any occasion. Choose from any of these extraordinary heart stencils and enjoy getting creative with your family.
Try using these stencils tiles for other objects including:
Plant Pots
Wall Stencils
Border Stencils
Tote Bags
Kitchen Utensils
Kitchen Tiles
and Bathroom Tiles
Share Your Creative Stenciling
We wouldn't have half the fun or get our creative juices flowing if it wasn't for you! We love it when you share your projects with us. Please send images of all your work, or drop us a line with new ideas.
We even take on your challenges … like 'how to spruce up a drab fence, or stucco wall!'
Whenever you stencil, whatever you stencil … share your images, ideas, and creativity!